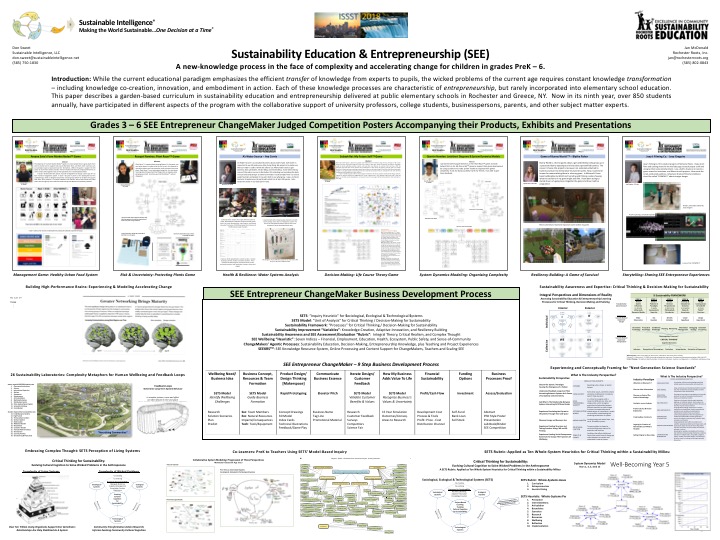 PRESENTATIONS
International Symposium on Sustainable Systems & Technologies (ISSST)
2015 & 2018
The ISSST is the premier conference for research related to the sustainability of science and technology systems. The program covers the spectrum of issues for assessing and managing products and services across their life cycle, and the design, management and policy implications of sustainable engineered systems and technologies.
Jan McDonald, Executive Director's abstract submission was accepted for a Presentation and Poster session focused on "Bringing Science to Life:" A Collaborative Approach to Sustainability Education in Montessori Grades Pre-K--6 Where Students, Teachers, Citizens, College Students, PhDs and Businesses Learn Together.
Don Sweet, CEO, Sustainable Intelligence, LLC was accepted for the ISSST 2018 Poster Session and Presentation focused on: Sustainability Education & Entrepreneurship (SEE). A new-knowledge process in the face of complexity and accelerating change for children in grades PreK – 6.
March 2016
WiSE Professionals: Collaborative model of sustainability education, SUNY Environmental Science & Forestry.
July 2011
Growing together with the three sisters, ROOTS led conference featuring author Lynne Cherry, Marcia Eames-Sheavly and Jan McDonald.